Our foundation's 2022 Inspire Gala, a blue and green affair, was a fun-filled evening in a creative, symbolic and unique venue. Nine Twenty is one of the best kept secrets of Downtown Las Vegas in the Railroad Arts District. The Molasky Family graciously hosted the event in this venue because they are celebrators of life, beauty and differences, which translated to one-of-a-kind experience. From the moment guests walked in, they could grab a beverage at the various bar activations (provided by Breakthru Beverage), then they were able to visit several food stations with culinary creations donated by our favorite locally owned restaurants. There were also several live art activations from Pretty Done and Skin City Body Painting. The night ended with a live performance from Nicholas Petricca, the front man of Walk the Moon.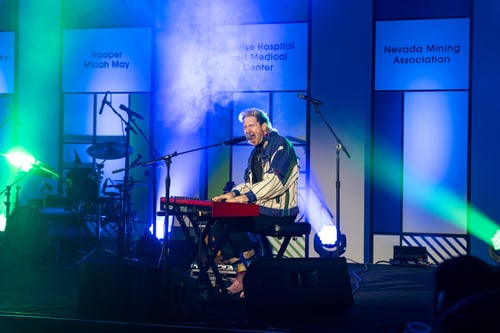 This year's gala was presented by Ossium Health, and all financial contributions supported our foundation's mission 'End the Wait' for all Nevadans desperately waiting for the gift of life and healing. The 'campaign is aimed at raising $35 million to expand transplantation offerings and support in Nevada. The goal is that Nevada residents would be able to be evaluated, transplanted and cared for locally. Currently, Nevada Donor Network is exporting over 90% of life-saving organs we recover from heroic donors in our community. There are more than 600 Nevadans on the transplant waiting list. Based on our population size, experts tell us that the waitlist should be closer to 2,000 people. Nevadans are having to travel to another state to receive every organ besides kidneys. It is for this reason that we seek to develop the first organ transplant institute of its kind for Nevada. A few special guests who support this initiative and attended this year's Inspire Gala included Nevada Governor, Steve Sisolak; Former U.S. Representative, Shelley Berkley; City of Las Vegas Councilman, Brian Knudsen; Nevada Mining Association President and CEO, Tyre Gray; Vegas Golden Knights President and CEO, Kerry Bubolz; and a special video message from Mr. Las Vegas himself, Wayne Newtown.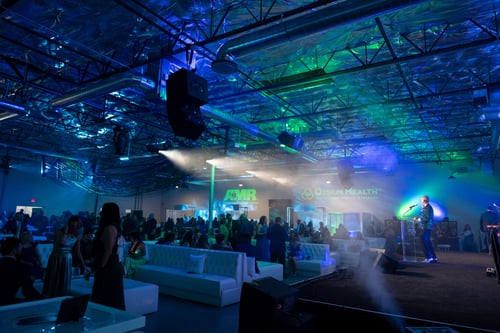 One of the most prestigious elements of the program was the awards ceremony. The following honorees were recognized for their efforts: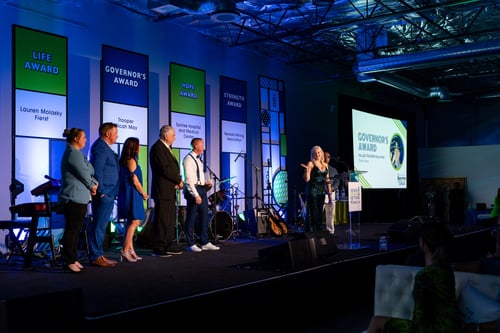 One of the most touching moments in the evening was when double lung recipient and Life Award honoree, Lauren Molasky Fierst, shared a poignant speech which included a poem. Lauren is a Las Vegas native and mother of two who has been battling cystic fibrosis (CF) since birth. Determined to never let her disease define her, she lives a life full of gratitude for all of the experiences she can have. Despite having a chronic, progressive and debilitating disease, her focus is her children, while also raising awareness and advocating for CF and organ, eye and tissue donation. She moved to southern California to be listed for and receive a double lung transplant. After many years in the fashion industry as a designer, stylist and blogger, she shifted her focus to a passion project and published her first book, 'The Sky Cracked Open,' while in end stage CF. During the height of the COVID-19 pandemic, her declining health forced her to live in the hospital for months on end while waiting for a match. She received her lifesaving double lung transplant in October of 2020 and has lived each day since grateful, excited and hopeful for the future while working on a variety of endeavors. She lives in Las Vegas with her husband, son, daughter and dog, Charlie. Here is the beautiful poem she shared:
How do we explain the unexplainable,
Describe the unrelatable
Define the undefinable
Console the inconsolable

I was simply a baby
When new doctors declared
That my life would be short
A diagnosis now shared
My parents now knowing
Of what this would mean
Heirs to new knowledge
Of my inherited gene
But I don't search for pity
For my story's not sad
As I learned long ago
To focus on what life truly has
When life can be a mystery
Ups and downs along the way
Often questions go unanswered
Learned acceptance, come what may

We must make peace for these uncertainties
Accepting that we may not know
Why some are here to stay
And others meant to go

If only we search for the goodness
For in darkness there is light
And know it lies within us
What we set forth, and ignite

Because in times of such uncertainty
When there's chaos, blame and greed
Camaraderie and union ship
Is the only thing we need
We all have the same chance
But not everyone gives
Just like everyone dies
But does everyone live?
Can we say we all helped?
And did what we should?
While people keep preaching
That they'd help if they could

We should lead by example
Shining light on our way
People hear you speak words
But do they hear what you say?

The true meaning of giving, is to give without praise
And in these times of true grief, true giving displayed
Not one string attached, a stranger saved me
A butterfly effect, to all that he freed

His life and his legacy
Not once taken in jest
As my lungs go on breathing
Inside my battlefield chest

And all the kings horses
And all the kings men
Wouldn't have let me believe
That I'd be living again

So I don't feel I'm deserving
My struggles not unlike the rest
But my heart proud and honored
Think of those who suffer, my one request

Generations past
They all gave up much more
They were drafted instead
And were sent off to war

The choices we make
Their weight, heavy and wide
Years from now, when children learn
They'll ask what was your side?

Yet with one simple movement
And a paper marked yes
We could selflessly give
A new life to possess

And when my death hovered over
I could speak of my truth
And hoped a world free of hate
Will soon be led by our youth
But I don't know what the future holds
I pray I'm here to see
For we ALL must try to work as one
Until all of us are WE.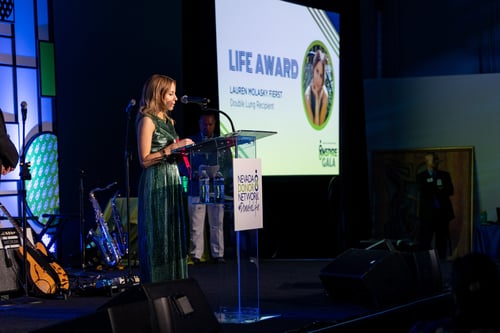 There wasn't a dry eye in the room. It is moments like these that the Foundation wants to ensure are possible. Nevada Donor Network's Foundation was born from a dream to 'End the Wait' for hundreds of Nevadans and thousands of Americans on the national organ transplant list. Everyone who attended that night in support of the mission to save and heal lives through organ, eye and tissue donation is making a difference. We look forward to next year's event and many uncharted possibilities which take us one step closer to expanding Nevada's healthcare landscape.