It's that time of the year! We are thrilled to travel to 'Sunny San Diego' to cheer on our six competitors of Team Nevada. Nevada Donor Network is proud to lead inspiring Nevadans every two years to compete in the Donate Life Transplant Games of America (TGA). The last in-person event was held in 2018. This has been a long time coming! TGA is like the Olympics, but for individuals who are impacted and inspired by transplantation.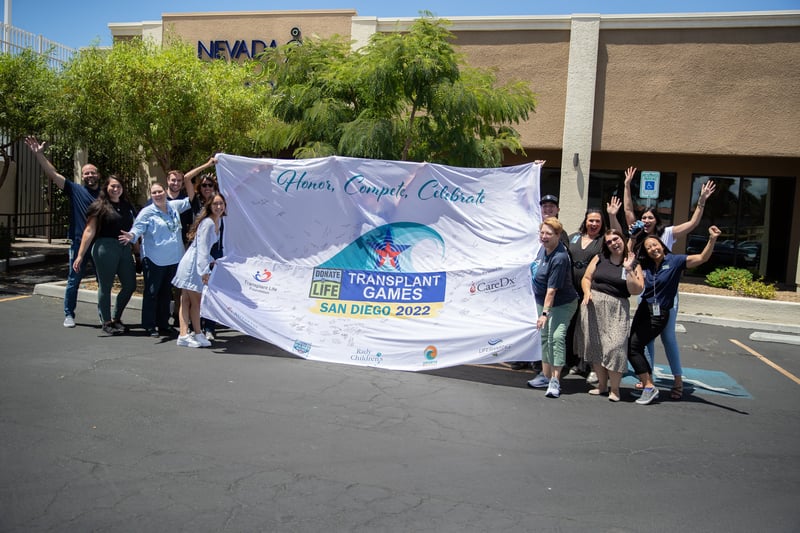 TGA is a biennial (every two years) event held in the United States to recognize the tremendous accomplishments of individuals whose lives have been affected by donation. They also welcome members of our front-line community involved in transplantation to promote the life-changing impact that donation represents today. Participants from virtually every state (and even countries outside of the United States) compete in a variety of competitive events to demonstrate how their lives have been changed through the gift of organ, eye and tissue donation. Competitors are grouped by age into three categories, organ transplant recipients, tissue transplant recipients and living donors. They can compete in everything from darts to swimming to ballroom dancing and so much more!

This year we are honored to cheer on six competitors from Nevada. We would like to introduce you to each one of them:
Becky Mintz (Heart Recipient)- Becky is looking forward to competing in her third TGA! After receiving the ultimate gift, she lives every day to the fullest. Becky always thought of herself as an ordinary, healthy, mother and wife. That is, until the day she suffered a massive heart attack caused by two separate blood clots. She remembers the fear and worry etched on the faces of her husband and teenage daughter as she woke up in the hospital to learn a pump implanted in her stomach was the only thing that was keeping her alive. Her life changed forever. Becky spent the following few months in and out of the hospital, learning to adapt to life with a Left Ventricular Assist Device (LVAD). Her doctor explained that her damaged heart would need to be replaced with a healthy one and she was eventually placed on the national organ transplant waiting list. She could have waited months, even years for a heart that may have never come, but as fate would have it, only 11 days would pass before a heart became available for her. Her hero, Eddie, a young man from California, gave her the ultimate gift.
Brienna Love (Heart Recipient)- Brienna is very excited to attend and compete in her second TGA! Her story inspires many to live their second chance to the fullest. In the Summer of 2016, Brienna was an 11-year-old, perfectly athletic, healthy and vibrant girl that rarely even caught a cold but got very sick. Her parents couldn't figure out what was wrong, so they took her to the hospital and discovered she had a failing heart that was working at less than 20%. The official diagnosis was Dilated Cardiomyopathy, or an enlarged heart with a weak muscle. Once discovered, she was quickly flown to Salt Lake City, Utah and placed in the Pediatric Intensive Care Unit (PICU) at Primary Children's Hospital. Within days, she received an adult Left Ventricular Assist Device (LVAD), that would keep her alive for six weeks until she received the gift of life on September 7th, 2016. That date also happens to be her little brother, Jacob's, birthday (now they share a special day). She received the gift of life from a 16-year-old boy named Kris from Northern Idaho. Since her heart transplant, Brienna has lived knowing she honors her donor in everything she does. She excels in school with straight A's and has danced on her nationally ranked school dance teams.
Dinorah Arambula (Kidney Recipient)- Dinorah AKA "Medals" received her nickname because of how many medals she's taken home from past games! This is how a heroic donor changed her life… February 4, 2011. Dinorah just got home from dialysis. Exhausted, she decided to watch some T.V. with her daughter before heading to bed. The phone rings and her heart starts racing, because it's her kidney transplant team and she was told a heroic donor was a perfect match. When she started dialysis, she was told to expect a two to five year wait, but 11 months later, Dinorah's life changed forever. Dinorah suffered from high blood pressure for years and in 2009, her kidneys began failing. This once active soccer player was barely able to climb the stairs to her apartment. Several months after surgery, Dinorah was feeling healthy and ready to climb mountains, both literally and figuratively. She continues to stay in shape to take care of her precious gift. Though it was a difficult journey, Dinorah never lost hope.
JoAnne Gipson (Living Kidney Donor)- JoAnne is our only competitor from Northern Nevada and is a heroic living donor! About 15 years ago, she developed a friendship with a co-worker. She discovered her co-worker (Kiran) had severe polycystic kidney disease which caused her kidneys to fail. Kiran hoped to find a living donor or would have to go on dialysis two weeks later. JoAnne learned more about the living donor process and for a reason that took her many years to realize, she told Kiran she was getting tested. The results finally came in on Kiran's birthday, a perfect match! They continue their friendship today, and JoAnne is happy to be a part of Kiran's family. After years of being asked why she chose to be Kiran's donor, she shared that it was her way to pay it forward. She and her daughter were the recipients of many heartfelt gifts from so many amazing groups of people after her first husband passed away from a fatal heart attack only two days after their son was born. These wonderful people reached out with meals, paid bills, took her daughter to the circus and more. With their caring and generous support, JoAnne knew she and her children would be ok. She is honored to have been given the opportunity to give Kiran the gift of life.
June Monroe (Living Kidney Donor)- June is a living donor and returning competitor of TGA! Over thirty years ago, June's younger brother Brian got sick, and his kidneys began failing. Their father donated a kidney to Brian in 1982. Several years later, the kidney deteriorated and Brian was put back on dialysis. June began the screening process and learned she was a match. She donated one of her kidneys to her brother in 2005, giving him the gift of life. He fought bravely and taught June to never give up. After Brian passed away in 2014 due to unrelated health issues, June decided to honor Brian's legacy by spreading awareness about organ, eye and tissue donation. She's excited to compete in this year's games to honor Brian's legacy and inspire others to register to be a hero!
Osker Gamboa (Heart Recipient)- Osker is excited to participate in his first TGA! In 2015, after nine years of battling many health conditions, Osker's medical team noticed a heart murmur and he was sent to the Children's Heart Center of Nevada. There he was diagnosed with severe hypertrophic cardiomyopathy, the leading cause of sudden death syndrome. Many second opinions and tests later, UCLA Health placed him on the national transplant waiting list.Osker needed a new heart to live. After two years of waiting, he became extremely ill and moved to a higher priority on the list. He received his lifesaving gift in April of 2017. Now, Osker lives every day with a positive attitude and tries to give back whenever he can by sharing his story of hope.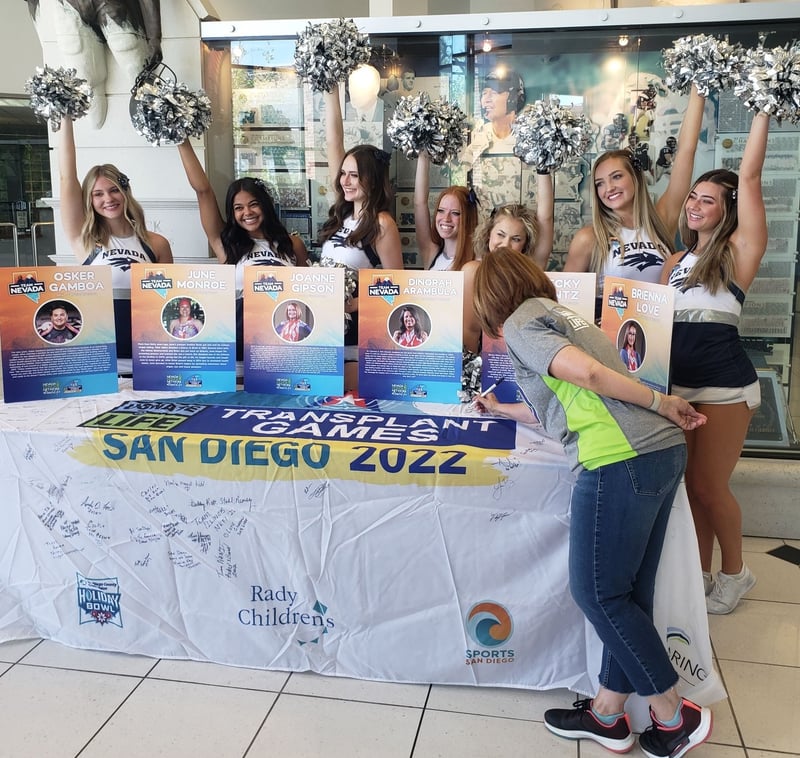 We encourage you to watch their journeys unfold starting July 29th by following us on Facebook, Instagram and Twitter. We plan to share several behind-the-scenes updates highlighting the experience each competitor has.