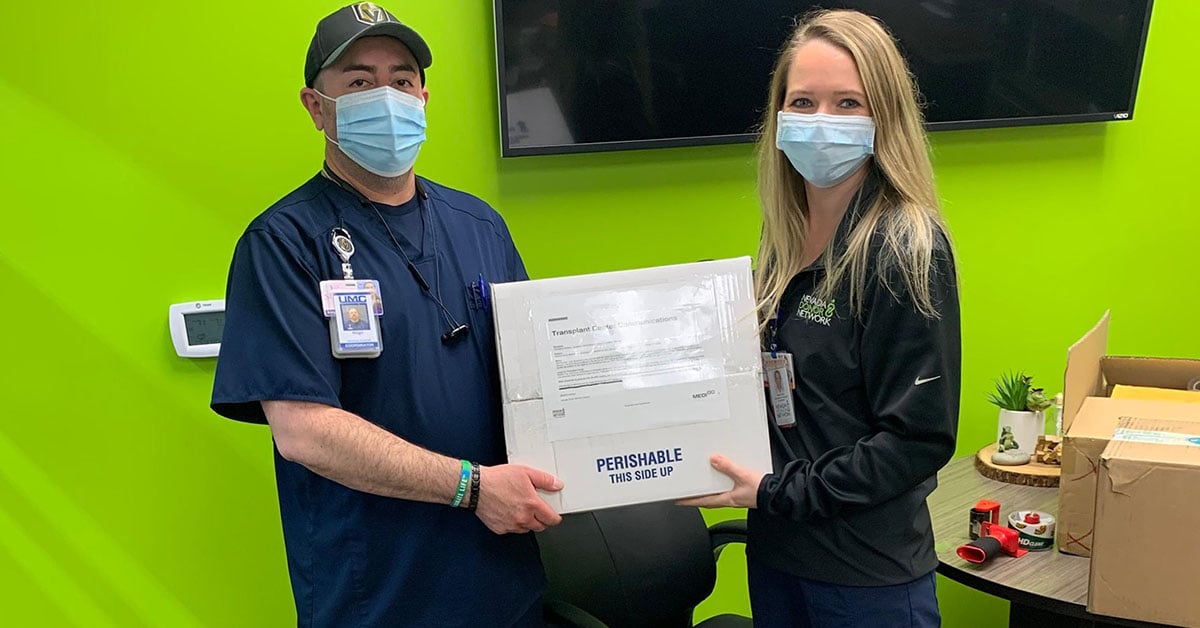 Nevada Donor Network's (NDN) employee, Kelsi Kolle, has had her fair share of unique experiences facilitating the process of organ donation. She wholeheartedly believes in our mission to save and heal lives through organ, eye and tissue donation. This is the story of her dedication.
A Literal Lifesaver
Kelsi is a registered nurse (RN) and certified procurement transplant coordinator who has been working for NDN for more than two years. Before she worked with us, she served as an RN at Sunrise Hospital and Medical Center and worked in the trauma unit during the 1 October tragedy that killed 60 people and injured hundreds more. She also worked as an RN at Baylor St. Luke's Medical Center's intensive care unit (ICU) in Houston, Texas. Her experience as a critical care nurse gave her special insight into how organ donation can change a life in so many ways.

As a procurement transplant coordinator for NDN, Kelsi's job is to coordinate the entire organ transplant process from beginning to end. This involves evaluating organ suitability, making patient referrals and communicating with many other medical professionals involved in the donation process. As a member of our team, she advocates every day to save lives through organ donation.
Going Above and Beyond
One case, in the fall of 2020, especially illustrates Kelsi's incredible commitment to saving lives in any way possible. She was working with a courageous pediatric donor's family whose tiny hero was able to donate a heart, liver and two kidneys. The blood vessels of the kidneys were damaged, but Kelsi didn't give up. She knew she had to find a doctor who was able to find a solution and make the transplant a success. Thankfully, she was able to locate one in Florida. With more than 2,000 miles between them, she had the demanding task of ensuring the kidneys arrived and were transplanted before they lost viability.
It was a holiday weekend and most flights were booked. Kelsi and her team didn't let this stop them. They called every single airline that was flying out of McCarran International Airport. Finally, after telling Delta representatives how important it was to get the kidneys transported quickly, they found the fastest possible option for her travel. Kelsi understood the urgency and flew to Florida with the lifesaving gift on behalf of the heroic donor's family who said "YES" to the ultimate gift. Everything went smoothly and she successfully hand-delivered the kidneys.
Kelsi went above and beyond the call of duty, saving surgeons' valuable time to reconstruct the organs and transplant them into the recipient. This is just one valiant example of how Kelsi's dedication has made an impact on the life of someone she served. Due to her diligence in carrying out our mission, this heroic donor was able to give the gift of life to three others. We are incredibly honored and proud to have Kelsi on our team.
Making Hope, Strength & Life Possible
Nevada Donor Network provides hope to patients in need of healthy organs and tissues around the world. We work with hospitals and other specialists to facilitate the organ donation and transplantation process throughout the state of Nevada. Our team members work tirelessly to train and educate others about organ donation. Help us save as many lives as possible and let's 'end the wait' together! Register to be a hero today!