February 5th through February 11th is National Burn Awareness Week, and it is the perfect time for us to share more about the heroic tissue donors we serve. Donated tissue can be used in many different clinical procedures which saves and heals lives daily. Tissue donation impacts people in several serious and life-threatening situations which can include severe burns. This allows the body time to heal while also preventing infection.

Each year, according to Donate Life America, there are approximately 58,000 heroic tissue donors in the United States. You likely have a coworker, friend, loved one or even neighbor who has had their life changed by tissue transplantation. According to the American Association of Tissue Banks (AATB), the need for donor tissue is great because around 2.5 million tissue transplants are performed yearly. This is often part of medical treatment for many diseases and injuries such as bone fractures, cancer, ligament repairs, open heart surgery and more.

When one person says, 'YES,' to donation, they can heal and enhance the lives of more than 75 others (on average) through this type of donation. Certain tissue grafts can be preserved for up to five years. Nevada Donor Network proudly partners with several tissue banks who process these gifts and ensure their safety prior to recipients receiving them.
How much do you know about skin donation?
The skin is the body's largest organ which acts as a protective shield against all the elements of our world. Think about things like heat, infection, injury and light. The skin even has three layers (the dermis, epidermis and hypodermis). Together, they act as a 'bodyguard' of the underlying bones, internal organs, ligaments and muscles in the human body. Skin grafts serve as wound coverings for burn patients which prevents fluid loss and infection. Because of the large size that is needed to treat most burn traumas, these grafts are created from skin that is donated after someone passes away. Applying this gift during burn recovery has several benefits such as decreasing complications and speeding up recovery, but most importantly, saving lives.
In honor of National Burn Awareness Week, one man's story demonstrates the profound impact of skin donation. On March 26, 2001, Jason Schecterle's life changed forever. A taxicab, traveling over 100 mph crashed into his patrol car when he was pulled over for a routine traffic stop. It burst into flames, trapping him inside. At the time, 26-year-old Jason was working his dream job as a Phoenix law enforcement officer. He also embraced his role as a proud father of two and husband. Following the crash, Jason spent two and a half months in a medically induced coma that was followed by dozens of surgeries and therapy. He suffered burns covering 40% of his body. Heroic donors, like those we humbly serve, made Jason's second chance possible. Since this life-changing incident, he has been a part of his children's graduations, weddings and has even become a grandfather. He now gives back by sharing his story of survival made possible because of the gifts that healed and protected his body.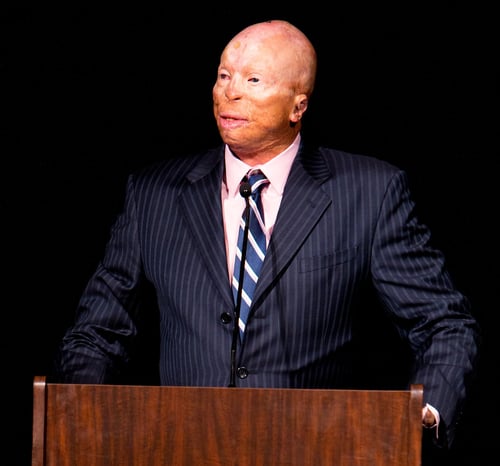 Would you like to leave a legacy of healing in honor of National Burn Awareness Week? Register to be a hero here!