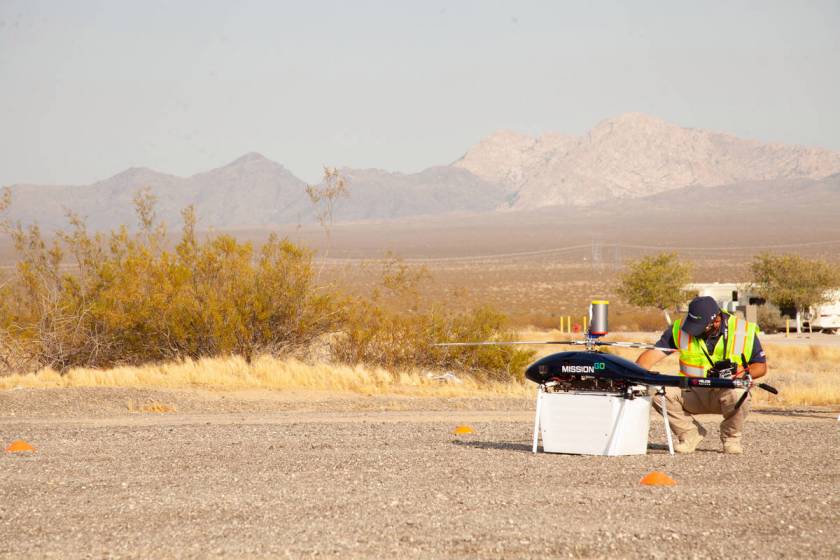 Unmanned drone by MissionGo
Last year, the worldwide COVID-19 pandemic affected all of us in countless ways. Despite the turmoil, Nevada Donor Network (NDN) remained committed to facilitating the gift of organ, eye and tissue donation here in Nevada. Even with the added challenges of the pandemic, we coordinated the recovery of 504 lifesaving organs and thousands more tissues and corneas. We shifted our processes, improved our logistics and compassionately served our heroic donors, courageous families and grateful recipients.
Though 2020 proved to be a challenging year for everyone, our team demonstrated remarkable resilience and growth in the face of tremendous adversity. We owe our deepest gratitude to the heroic donors and courageous families who selflessly look beyond their own grief to help others. We also thank the community and healthcare partners whose support allows us to make the gifts of hope, strength, and life possible. Let's take a moment to reflect on 2020.
Groundbreaking Technology to Achieve Rare Heart & Lung Recoveries
Last year, we were at the forefront of changing the future of heart and lung transplants. We proudly facilitated one of the first Donation After Cardiac Death (DCD) heart recoveries in the nation and the very first within our region (Nevada, Arizona, California, New Mexico, and Utah). While heart transplants typically occur in the event of a death due to loss of brain function (brain death), DCD donation occurs after a donor's heart has stopped beating (cardiac death). This innovative procedure allows more lifesaving hearts to be recovered and transplanted.
We also performed our first Ex Vivo Lung Perfusion (EVLP) in 2020. Typically, lung transplants have a six-hour time limit between recovery and transplantation. This means a heroic donor's lung(s) in Los Angeles would not typically be able to withstand the distance required to travel to someone in need on the East Coast. EVLP helps maximize donation by allowing lungs to be transported further distances. This technology preserves and improves lung function for a successful transplant. Remarkably, lungs that previously couldn't have been donated will now be able to give the gift of life to a grateful recipient by using EVLP.
Longest Organ Delivery Flight by Unmanned Aircraft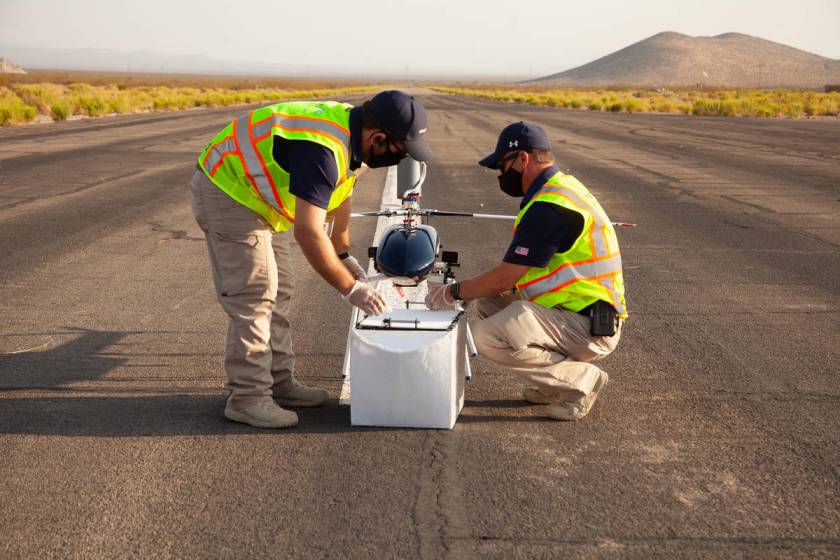 Preparing organ for transport through MissionGo
NDN was honored to be at the forefront of innovative transport technologies in 2020. We strive to participate in advancements that will help us continue improving our quality of care on behalf of those we serve. One such innovation is delivering lifesaving organs and healing tissues to hospitals via unmanned aircraft systems. We are proud to have coordinated a historical achievement by completing the furthest transport of a human organ by unmanned aircraft.
We were also involved with the recovery, transport and delivery of corneal tissue from Southern Hills Hospital to the St. Rose Dominican, San Martín Campus in Las Vegas. Both test flights proved that unmanned aircrafts can provide safe transportation of human organs and tissues. The information gathered from these flights will further the development of safe, economical, eco-friendly transportation of organs and tissues in the future. Drones allow us to safely, quickly and effectively transport human organs and tissues to our partners without the need for pilots, excessive fuel use or unreliable GPS tracking. This translates to more lives saved and healed.
Proudly Leading the Nation
Nevada Donor Network leads the nation in organ donors and organs transplanted per million of population. NDN works tirelessly to maximize the gift of life and health, even amidst a global pandemic.
There are still more than 100,000 Americans waiting for their life saving gift. Through public education and collaboration with community and healthcare partners, our team hopes to end the wait and save even more lives in 2021. We have shown what we can make possible by adhering to our core values and remaining dedicated to the mission.
Our President and CEO Joe Ferreira shares, "As the need continues to rise, so will we to meet the challenge. In 2021, we will continue our important work to maximize donation and elevate healthcare in the beautiful state of Nevada. We will ensure every Nevadan in need receives the lifesaving and healing gift of transplantation. Together we will end the wait and fulfill the need."
2020 By The Numbers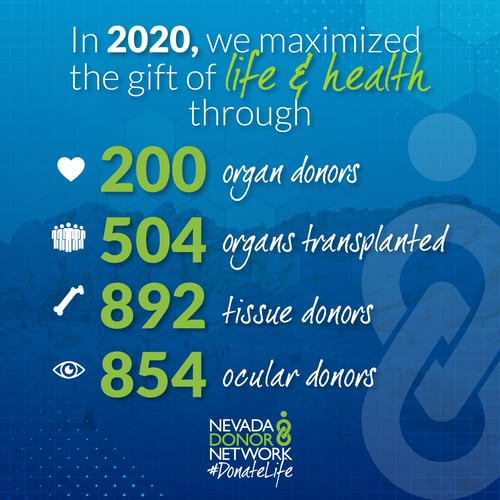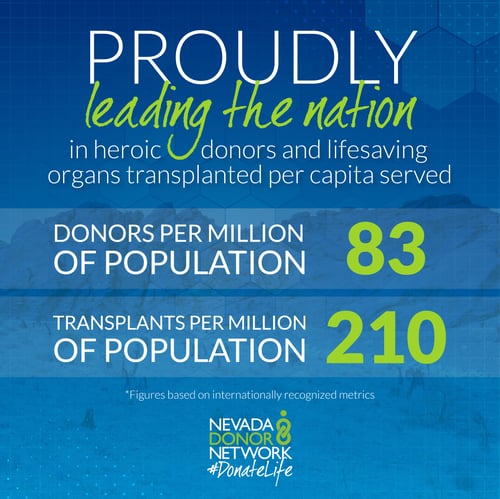 Despite the pandemic, we were able to positively impact thousands of lives through the gift of organ, eye, and tissue donation last year.
Here is a brief overview of the numbers:
83 Donors per Million of Population
210 Transplants per Million of Population
200 Organ Donors
892 Tissue Donors
854 Cornea Donors
504 Organ Transplant Recipients
1314 Cornea Transplant Recipients
Register to be a Hero!
We are excited to see what we can accomplish in this new year. We will be busy educating the public about organ, eye, and tissue donation, improving transportation and surgical technologies and advocating for Nevadans who are waiting for their second chance.
Everyone has the power to help end the wait. By registering as a heroic donor, you are giving hope to those in need. In fact, one donor has the power to save as many as eight lives through organ donation and heal 75 more through tissue donation. It is simple! Use the "REGISTER" button below! If you have any questions about becoming an organ, eye and tissue donor, please contact us today.