Organ, eye and tissue donation requires cooperation, expertise and support from a variety of professional partners. The entire process is a highly coordinated effort. The types of partners our team works with daily are coroners, doctors, emergency responders, funeral home team members, hospice caregivers, law enforcement, medical examiners, nurses and more. Each of these individuals are leaders in our mission to save and heal lives. They all have a very important role to play.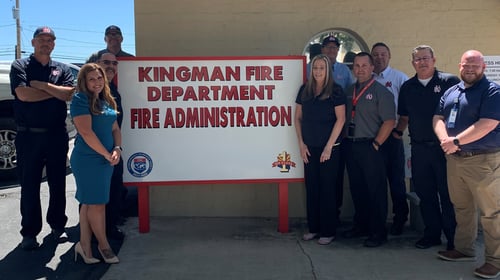 Nevada Donor Network (NDN) understands that it is vital to build mutual respect, facilitate education and encourage collaboration to build a network of pro-donation organizations throughout the state of Nevada. Leadership is on every level, and we encourage all team members of each organization we partner with to become involved with our mission. We also believe partnership is a two-way street. We provide much needed resources and supplies, attend their community outreach events and provide ongoing training to create consistency. Of course, all of this is free of charge and at the convenience of their unique schedules.

Here are three reasons why these partnerships are critical to our mission:
They expand our community reach.

When we collaborate with a new organization, this means that we can extend our network to the individuals they are connected with. This not only means giving more Nevadans a chance to become heroes, but it also means having those conversations while they are still able to. All it takes is one simple discussion to save or heal a life. The gift is in saying 'yes!'

They build awareness about organ, eye and tissue donation.

It is no surprise that there are many myths and misconceptions when it comes to donation. The fact is, many of these misunderstandings exist because the individual has not had the chance to speak to someone who knows the facts. Most of the time, a simple conversation is what changes their mind. When the community is aligned and educated about donation, those fears and misconceptions can be dispelled. Creating a donation positive culture in our state means that more people will want to give the ultimate gift. Together, professional partnerships ensure that we can reach as many Nevadans as possible.

They broaden our ability to serve Nevadans and save and heal more lives than ever before.

Many of the out of hospital partnerships Nevada Donor Network has cultivated over the last ten years were the first of their kind nationally. One of our favorite stories to share is about Nevada State Police Highway Patrol (NSPHP). This partnership began because of a mother who called our donation services team and wanted her son to be a heroic donor after he passed away in a car accident on the freeway. He was a heroic donor in spirit, but was unable to give the gift of healing through tissue donation because there weren't processes in place at that time to honor his wishes. This is when our incredible leader, Monica Myles, reached out to NSPHP to see if this is something they would be interested in supporting. This led to the first partnership of this type in the entire country. From there, our out of hospital partnerships have grown immensely! This brings solace to many more courageous donor families who would not have had the opportunity to see their loved one's legacy live on through donation without these partnerships.
Are you interested in being a part of the Nevada Donor Network family? Send an email to professionals@nvdonor.org to get the conversation started!