If someone walked up to you tomorrow and asked, "Why do you do what you do for a living?" What would your answer be? Nevada Donor Network (NDN) is proud to serve a mission that brings great honor and purpose to our hardworking team. They are relentless in their pursuit to save and heal lives. They are selfless in the way they serve our courageous donor families. They are also incredibly joyful in the simplest everyday actions they complete to create the wonderful culture we have!

There are several of our team members who are intimately connected to what we do. When you have a personal connection to your job, work stops feeling like work. Research shows that companies where team members feel their jobs have purpose and view their work as meaningful are happier, more motivated and excel when it comes to job performance.

Meet Jeff, he is the Manager of Ocular Services for Nevada Donor Network. He shared a very personal look into why serving our mission means so much to him, "In 2019, an acquaintance posted on Facebook that her friend's son needed a kidney transplant and was on dialysis. I had minimal information, but knew he was 13-years-old, lived in North Carolina and was looking for a donor who had blood Type O. I admittedly didn't know much about organ donation at the time (much less living donation). I contacted Duke University Hospital where he was being treated and the coordinator gave me a brief rundown of the process explaining that there is more than just blood typing to be a living donor. I agreed to testing that was completed in my Georgia hometown. This was an easy decision because I didn't have to commit just yet. When the results came in, I received a follow up call from the coordinator explaining that I was a match. The emotions started flowing (both excitement and fear). Without much thought, I told the coordinator that I would like to move forward with the process, which included going to Duke University Hospital for further imaging, bloodwork and interviews to evaluate my suitability. I took this information to my wife and asked for her thoughts. I'm blessed to have a loving and supportive wife. We prayed over the decision and my wife supported me through the entire process. The rest of the testing was very extensive. While we were in North Carolina, a meeting was arranged with the recipient and his family. Morgan and his loved ones displayed true appreciation. I could see the hope and love in their eyes. They told us stories about his kidney disease and the many disappointments that came with family being ruled out as suitable donors. We left North Carolina with even more to pray for. A week or two after testing, I received the call that if I was still onboard, I was approved to be his hero. It seemed like an obvious answer to me, because without the transplant, Morgan would not have great chances of survival. On September 16, 2019, the transplant surgery took place. There were a few complications with Morgan because his body was showing signs of rejection. My faith was very important to me during this. I prayed for healing, God's will and peace. "The eyes of the Lord watch over those who do right, and his ears are open to their prayers," which was shared in 1 Peter 3:12 was something I read repeatedly. Historically, a living donor's recovery is known to be more difficult than the recipient's. While this was true in some perspectives, I was not expecting to see Morgan go through the complications he did, and it was difficult for me to witness. As the week progressed, he took a turn for the better and his immune response suppressed. He was allowed to go home after staying in the hospital for a couple of weeks. It has now been three years, and he has reached some important milestones, such as starting high school and driving. Without organ donation, all of this would not be possible. I am blessed to have been given the opportunity to help Morgan along his journey and gain an extended family. I feel connected to our mission and am lucky to give back to something that means so much to me personally and professionally through my career."

Whenever possible, we also love to recognize our team members for the effort they put into furthering our mission! Meet Michael. He is our People Development Partner for our Tissue Services team. He is responsible for trainingtissue services team members and furthering their knowledge when it comes to recovery. He was recently recognized as Employee of the Quarter and 'Hero of the Game' during a Henderson Silver Knights game. He also celebrated two years with Nevada Donor Network last month! His professional mission has always been to make a difference in others' lives, locally and all around the world. He is thankful to have worked in different areas of healthcare. From EMS to emergency and critical care to injury prevention and emergency animal medicine. Michael is proud of the many ways he has helped save and heal lives. His enthusiasm for helping others shows every day. Michael believes that registering to be an organ, eye and tissue donor gives everyone the opportunity to be a hero. He shared that this hit close to home as the gift of tissue donation benefitted him during the numerous surgical procedures he had on his jaw. A heroic donor's gift helped reconstruct Michael's jaw and gave him a better quality of life.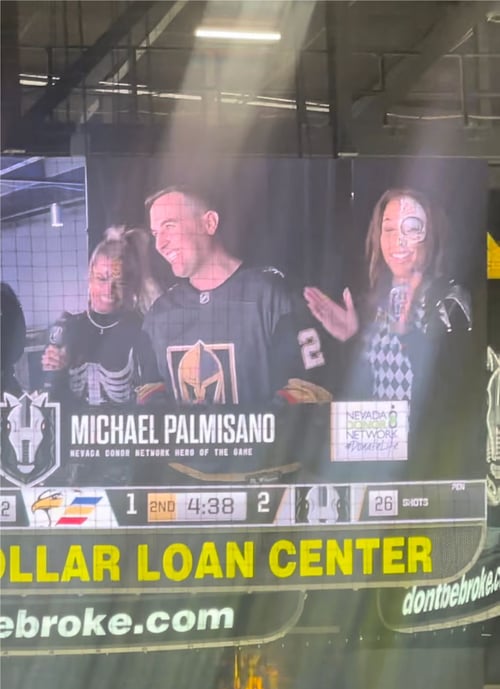 Finding meaning in your work has a plethora of benefits both personally and professionally! It even has the possibility of transforming your life! Research shows those who find meaning in their careers are often more committed to and engaged in their work. They even have a higher chance of being promoted and holding leadership positions. One of the most powerful quotes Ralph Waldo Emerson left us with is, "The purpose of life is not to be happy. It is to be useful, to be honorable, to be compassionate, to have it make some difference that you have lived and lived well." This rings true when thinking about what is most important when considering a workplace. If you're looking for a career with purpose, join our team by applying today at www.nvdonor.org/careers